Some hotel management companies manage and operate multiple hotels; others provide consulting and outsourcing services in areas such as hotel operations, reservations sales and systems, physical plant maintenance, and food services. In terms of hotel management occupations, two key staffing requirements are hotel managers and hotel desk clerks.
Hotel Managers
Hotel managers ensure that lodgings offer comfortable and convenient rooms, good food, and a staff that is courteous and helpful to individuals and families with travel requirements. They are also responsible for ensuring that lodgings are profitable. Hotel managers can work in traditional hotels, or they can work in motels, resorts, campgrounds, or just about any other place that travelers pay to spend the night. The typical duties of a hotel manager will vary greatly, depending upon the size of the lodging, as well as the services offered. Some lodgings simply provide rooms, while others provide extensive amenities such as spa experiences, gourmet dining, and recreation facilities such as golf, tennis, or swimming.

A bachelor's degree is generally required and a master's degree is valued for larger hotels, hotel chains, and those with lots of amenities. Hotel managers at these types of establishments preferably have their degree in hospitality or hotel management, though a degree in business, with many years of experience, may also suffice. Most of these larger hotels offer hotel management trainee programs that allow potential managers to be groomed for high-level positions. Smaller lodgings with fewer amenities and services may hire hotel managers with a combination of experience, associates degree, and a certificate in hospitality management.

The work environment can be stressful for hotel managers, as they strive to make guests happy, oversee a staff, and ensure profitability. Hotel managers rarely work regular hours. Because lodgings are open 24 hours, seven days a week, hotel managers must often work nights and weekends, and they are frequently on call for emergencies.

In addition to being able to juggle a wide variety of tasks at once, hotel managers must love working with people &mash; both their staff and their customers. Hotel managers must be able to diplomatically handle customer complaints, and must have a high threshold of patience. Because keeping the lodging profitable is so important, hotel managers must also be able to balance budgets, be proficient at marketing and sales, and have good business sense in general.

Hotel manager jobs are tied to travel. When the economy is robust and families and businesses are paying for travel, there are plenty of hotel manager positions available. Hotel managers searching for positions with hotels offering a high level of services and amenities face the greatest competition.

The American Hotel & Lodging Association serves the interests of hotel managers and other hotel industry professionals.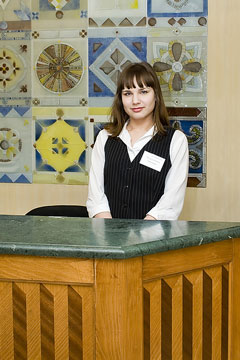 Hotel Desk Clerks
Hotel desk clerks, sometimes known as receptionists, perform a wide range of duties at hotels, motels, and other lodgings, including greeting guests, assigning rooms and room keys, checking out guests, processing payments, and answering questions about the lodgings as well as about the general area. Depending upon the amenities and services offered by the lodgings, hotel guest clerks may also be responsible for coordinating transportation, answering the telephone, delivering messages, and even doing laundry.

No formal education is usually required for hotel desk clerks. In most situations, on-the-job training is provided. Degrees or certificates in hotel or hospitality management, while certainly not necessary, may allow desk clerks to advance. Some of the larger hotel chains have career programs that enable their desk clerk staff to train for management positions.

The work environment hotel desk personnel can be hectic and stressful, particularly during high-volume times such as check-in and check-out, or when unhappy guests are lodging complaints. The job is physical as it requires the desk clerk to be on his or her feet for long periods of time. Because hotels are open 24 hours a day, seven days a week, there is flexibility for those looking to work outside of the traditional workweek. Hours may be part-time, full-time, during the day, during the evening, during the week, or on weekends.

Because hotel clerical staff and receptionists interact with the public, they must be friendly, have good communication skills, and possess excellent attitudes. The ability to think quickly and problem solve is also very important. Hotel clerical and reception personnel must be proficient, or must have good aptitude to learn to be proficient, at using systems such as telephone systems and computer systems.

Hotel desk clerk jobs are tied to travel. When the economy is robust and families and businesses are paying for travel, there are plenty of hotel desk clerical positions available.

More information about hotel industry careers, including educational and training programs, can be found on the Educational Institute of the American Hotel and Lodging Association website.
Privacy Policy
This privacy policy statement discloses the information gathering and dissemination practices of this Hotel-Management.RegionalDirectory.us website. No personal information is collected or disseminated herein. However, this privacy policy does not apply to third-party websites that this website cross-references.

We use third-party advertising companies to serve ads when you visit this website. These third parties may be placing and reading cookies on your web browser, or using web beacons to collect information, in the course of ads being served on this website. Web browser privacy settings are typically used to manage cookies. Please refer to your browser documentation for browser-specific cookie management information.

These companies may also use information about your visits to this website and other websites in order to provide advertisements about goods and services that may interest you. For more information about this practice and about your choices for managing the use of this information by these companies, click here.
Terms Of Use
All information on https://hotel-management.regionaldirectory.us is provided "as is." This website contains digital images and information resource links about hotel and motel management firms. By using this website, you agree that Zeducorp is not responsible for errors or omissions, and shall have no liability for damages of any kind, including special, indirect, or consequential damages, arising out of or resulting from any information, product, or service made available hereunder or the use or modification thereof.
Related Directory Pages
---
About Hotel Management Jobs